Episode 3: COVID-19, Diabetes, and the ...
Join us as we discuss how doctors of behavioral health are working with patients who have diabetes during the Covi
...
00:26:38
August 31, 2021
Episode 2: Sexual Assault Prevention an...
Sexual Assault Prevention and Response Post Covid-19, a discussion with guest Rebecca Ax, a sexual assault prevent
...
00:21:20
July 13, 2021
Welcome to The Break Room
Episode 1 of The Break Room with Dr. Amber D. Gray, DBH and Tabitha M. Chapman, MFT introduces listeners to concep
...
00:18:01
July 02, 2021
Upcoming Guests
---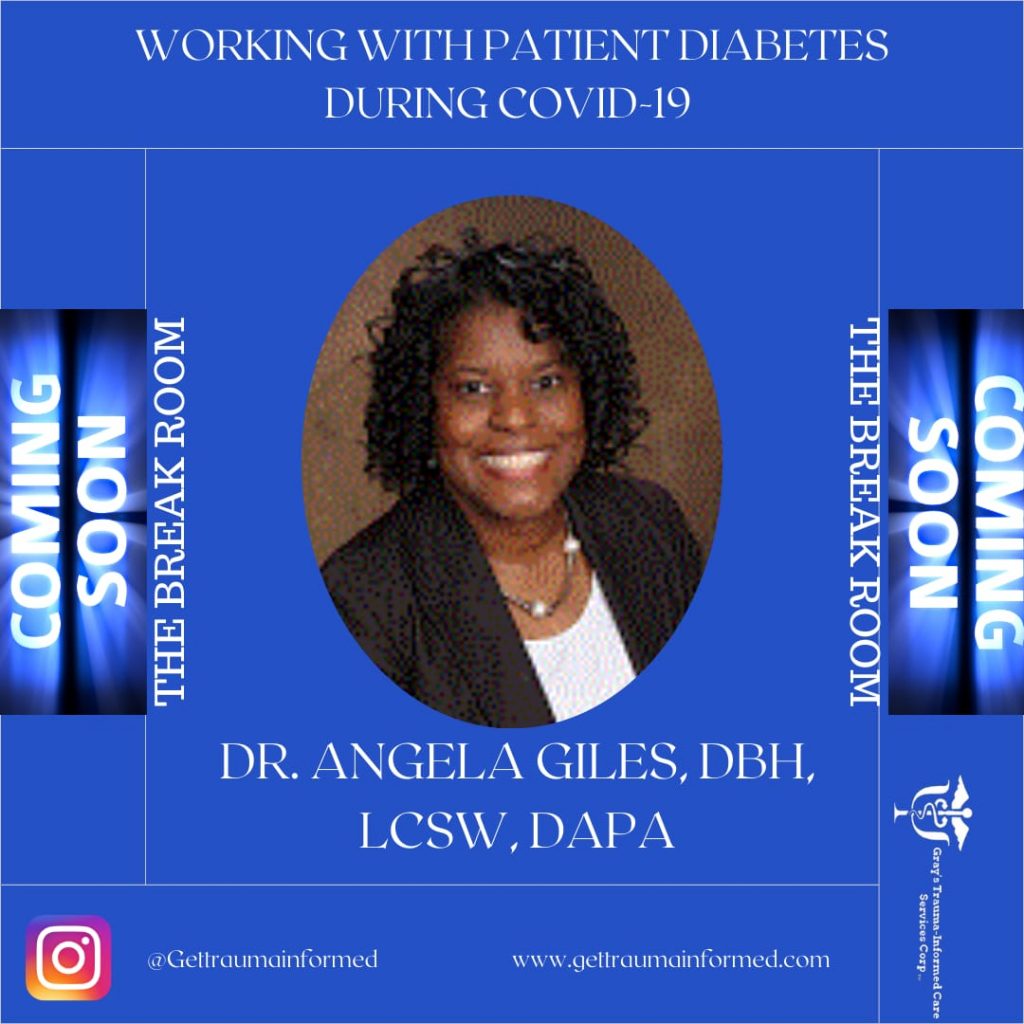 Episode 3 – Working with Patient Diabetes During COVID-19 with Dr. Angela Giles, DBH, LCSW, DAPA
Dr. Angela Giles is a Faculty Associate in the Doctor of Behavioral Health Program in the College of Health Solutions at Arizona State University. For fourteen years, she has worked as a Behavioral Health Consultant for the Veterans Health Administration. Her research interest are Veterans Health Care, Integrated Behavioral Health, Diabetes and Depression. She recently co-authored an article in the Social Work in Healthcare journal entitled "Social work and telehealth: How Patient Aligned Care Team (PACT) Social Workers in the Veterans Health Administration responded to COVID-19". She also has a special interest in the intersectionality between health disparities and diabetes. Her teaching focuses on the military/veteran culture and the integrated healthcare needs and management concerns related to the population.
---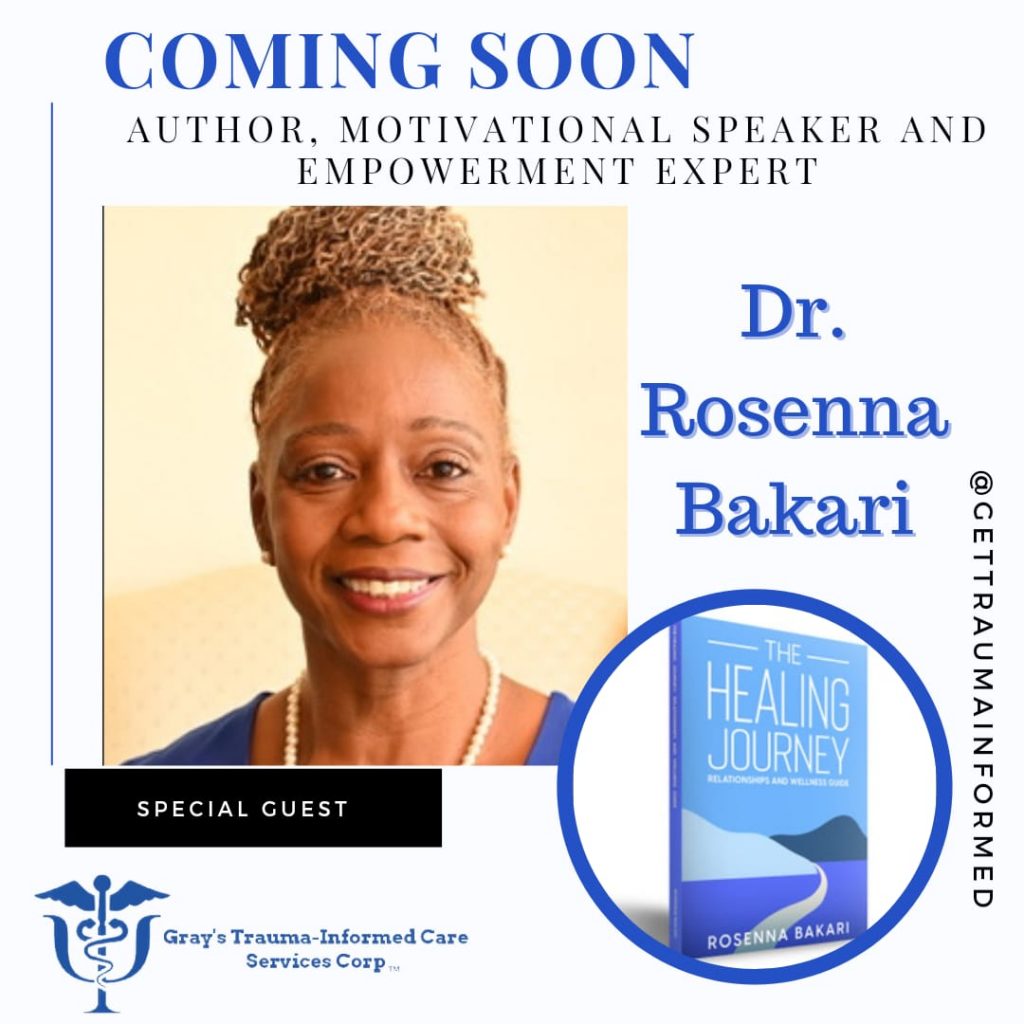 Episode 4 – Empowerment and Healing During COVID-19 with Dr. Rosena Bakari, LCPC, Ph.D.
The COVID-19 pandemic starkly illustrated the human dependency on external satisfaction. When people's access to their addictions to wealth, politics, love, and religion were cut off, depression and anger quickly arose. Millions of people risked their's and loved ones' lives in search of satisfaction outside of themselves. This guide offers permission to stop chasing happiness and the space to learn how to trust yourself to create it. The readings, critical reflections, and self-awareness activities will support your personal empowerment transformation. When you take the work seriously without rushing through it, you will feel a shift within yourself and your relationships.
As I work with clients, I'm finding that many people have had to come face-to-face with long-standing discontent. But, they ready to move into a new way of being. They just don't know how. I'm excited about meeting people where they are on the healing journey and helping them find their way. I think of myself as a little radical in my approach because I honor where people are and help them honor their own painful journeys. There are no quick pills to take. Healing is a process. People need more ways to be invited into the process of healing.
---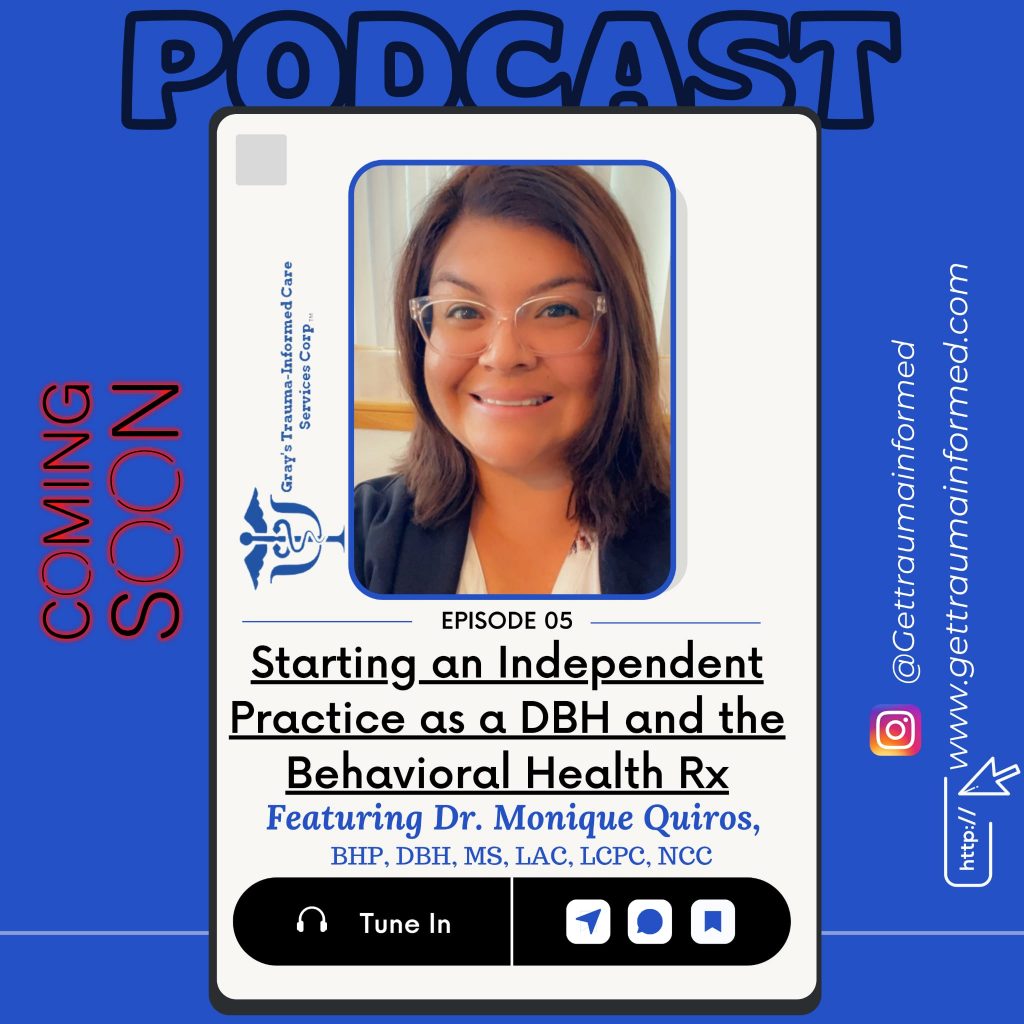 Episode 5 – Starting an Independent Practice as a DBH and the Behavioral Health RX by Dr. Monique Quiros, BHP, DBH, MB, LAC, LCPC, NCC
My name is Dr. Monique and I am a doctorate-level, dually licensed (NV & AZ) behavioral health professional with a specialty in integrated behavioral health encouraging and guiding others to make healthy behavioral changes.
My expertise is guiding clients to make the changes they need in order to be the best version of themselves by creating a personalized plan in order to sustain healthy lifestyle changes through appropriate nutrition and psychological wellbeing via counseling/therapy.
​
My top 5 niches/specialties are high conflict issues, child conduct disorders, life transitions, adult industry workers, and integrative behavioral health (e.g. chronic pain, disease management, lifestyle medicine,etc).
On a more intimate note, I am originally from the "Old Pueblo" in AZ, have two children, a husband, enjoy trying new local restaurants, and have eclectic spiritual interests.
---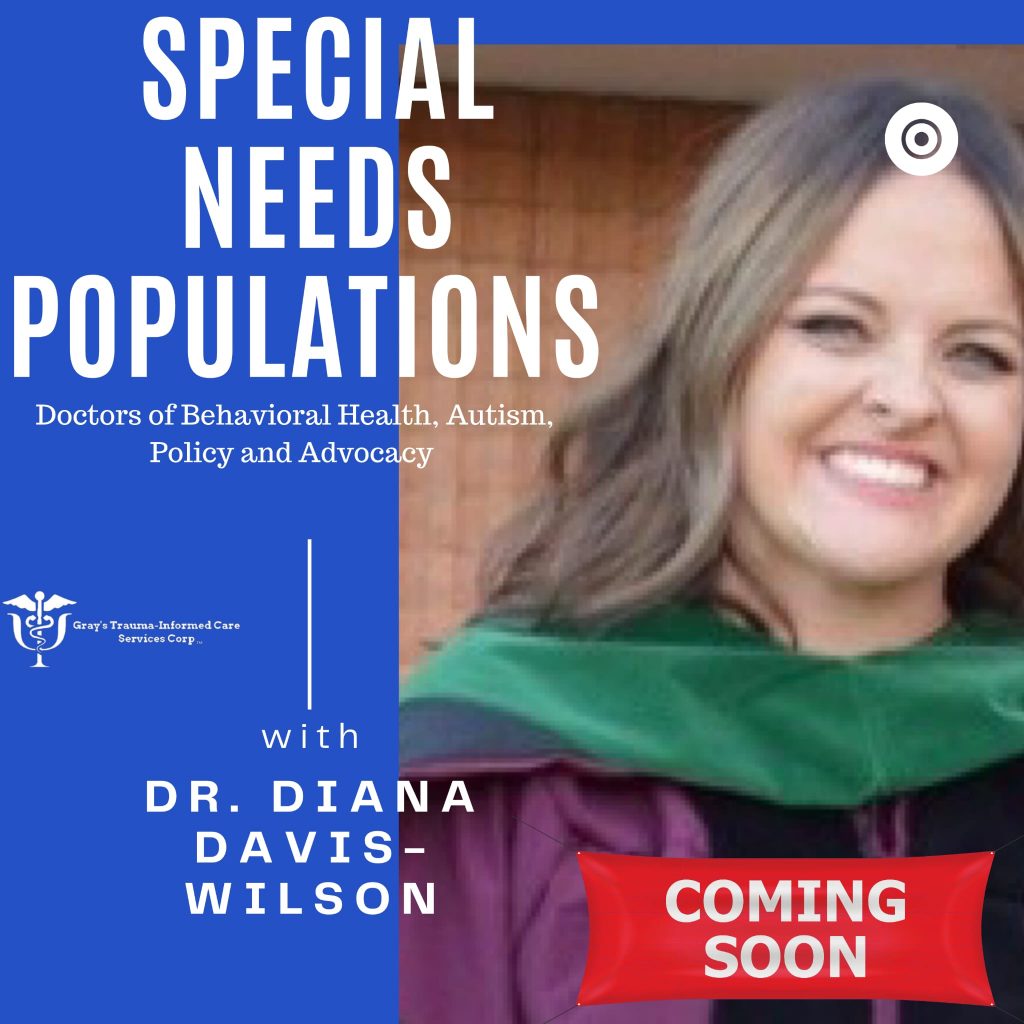 Episode 6 – Special Needs Populations with Dr. Diana Davis-Wilson, DBH
Dr. Davis-Wilson is a licensed behavior analyst and co-founder of Aspen Behavioral Consulting. Dr. Davis-Wilson has been a university professor in the areas of behavior analysis, special education and psychology for 10 years and currently serves as full time professor with Ball State University. Her life-long career passion is in public policy, advocacy and reform, with special interest in integrated health care management, law enforcement and access to care (evidence-based treatments) for a variety of developmental, behavioral and medical disorders
---