The Volunteer Services Unit Program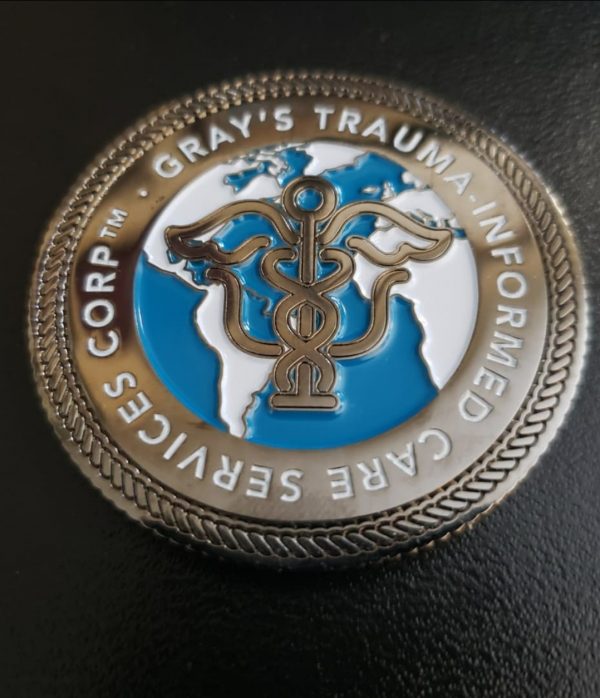 Gray's Trauma-Informed Care Services Corp, became a Certifying Organization for the Presidential Volunteer Service Award (PVSA) last year, in 2021. We decided that one of the greatest gifts that we could give back to the community was to create a volunteer services program, in which individuals could work to help those in need. Individuals in the volunteer services unit are eligible for a limited edition minted Gray's Trauma-Informed Care Services Corp challenge coin, as well as hours accumulated for the PVSA.
Our "Trauma-Informed World," medallion is a 2″ coin, with a roped edge. It is made of black nickel and features our organizations name, logo, the earth and has a limited edition number on it. The coin is given to those who go above and beyond in their service to others. We are hoping that by creating opportunities to be recognized for merit, we can increase volunteer service to others. Our organization is continuing to partner with advocacy agencies, that we may be able to continue to help those in need. If you are interested in volunteering with our organization, please contact us at: volunteer@gettraumainformed.com
We Have Become a Pink Partner!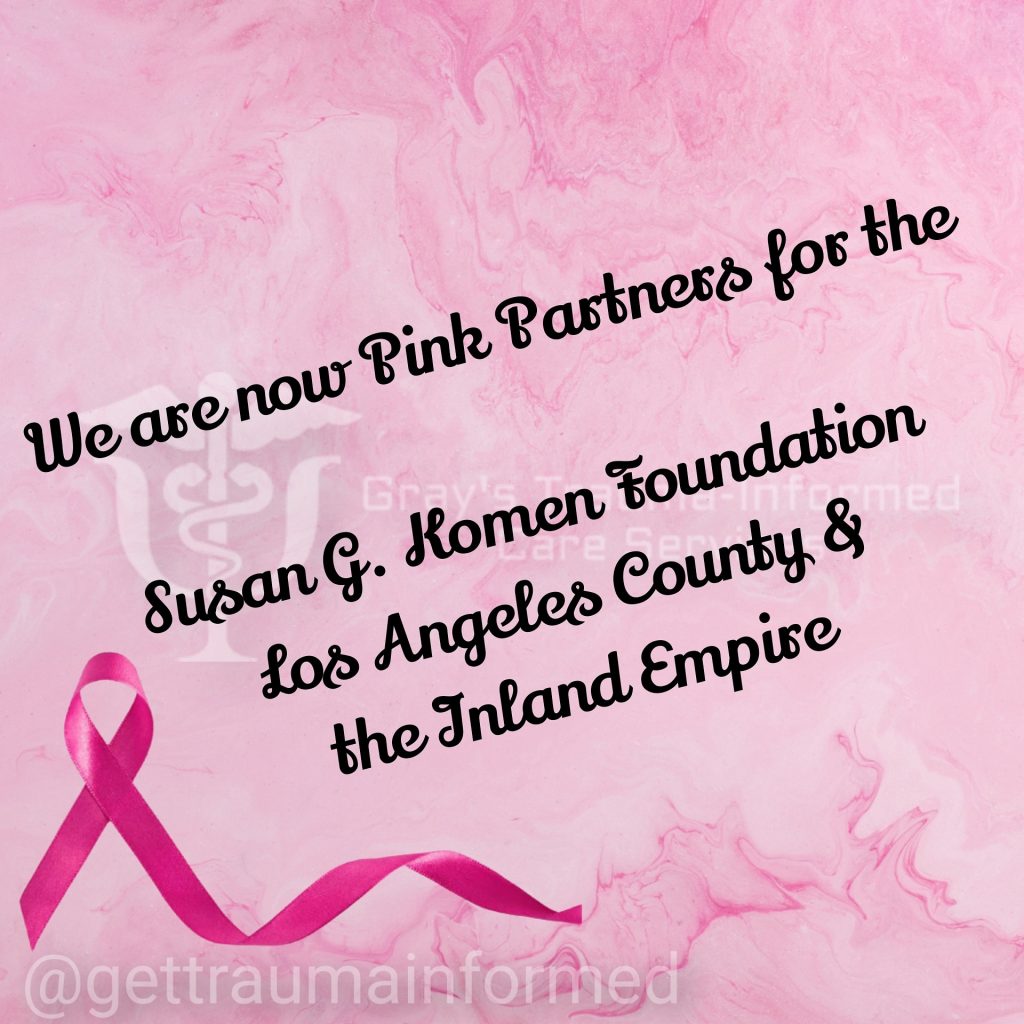 For the month of October, Gray's Trauma-Informed Care Services Corp has been making big changes and doing a lot of things differently. One of those things is how we raise awareness, who we partner with and how we support great organizations. The mainstay of our business is advocating for victims of violent crime and bringing innovation and change to healthcare practice and policy through evidence-based education. Every October, our organization did an awareness Walk/Run for those who had been effected by breast cancer. However, given the complexities of the era that we are in, our organization felt that we needed to do more. We decided to become a pink partner for the Susan G. Komen foundation.
What does it mean to be a pink partner? Our organization plans to raise awareness about breast cancer and hold fundraisers to further the efforts of the Susan G. Komen foundation. By becoming a pink partner, Gray's Trauma-Informed Care Services Corp has taken the first step towards a world without breast cancer by raising funds to stop this disease that affects 1 in 8 women during their lifetime. As the world's largest and most impactful breast cancer organization, Susan G. Komen funds more breast cancer research than any other nonprofit, while providing real-time help to those facing the disease.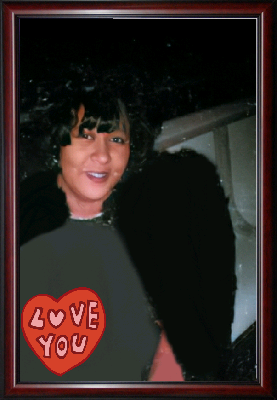 Our fundraiser is called the Diane Mack Pink Promise Event. It was created in honor of an extraordinary woman, whose life was cut short by an aggressive form of breast cancer. Diane Mack was a single mother, a loyal and dedicated worker of the county of Los Angeles, and she brought happiness and joy to anyone who had the pleasure to make her acquaintance. After her death, her family made a promise to fight breast cancer where ever and whenever they could.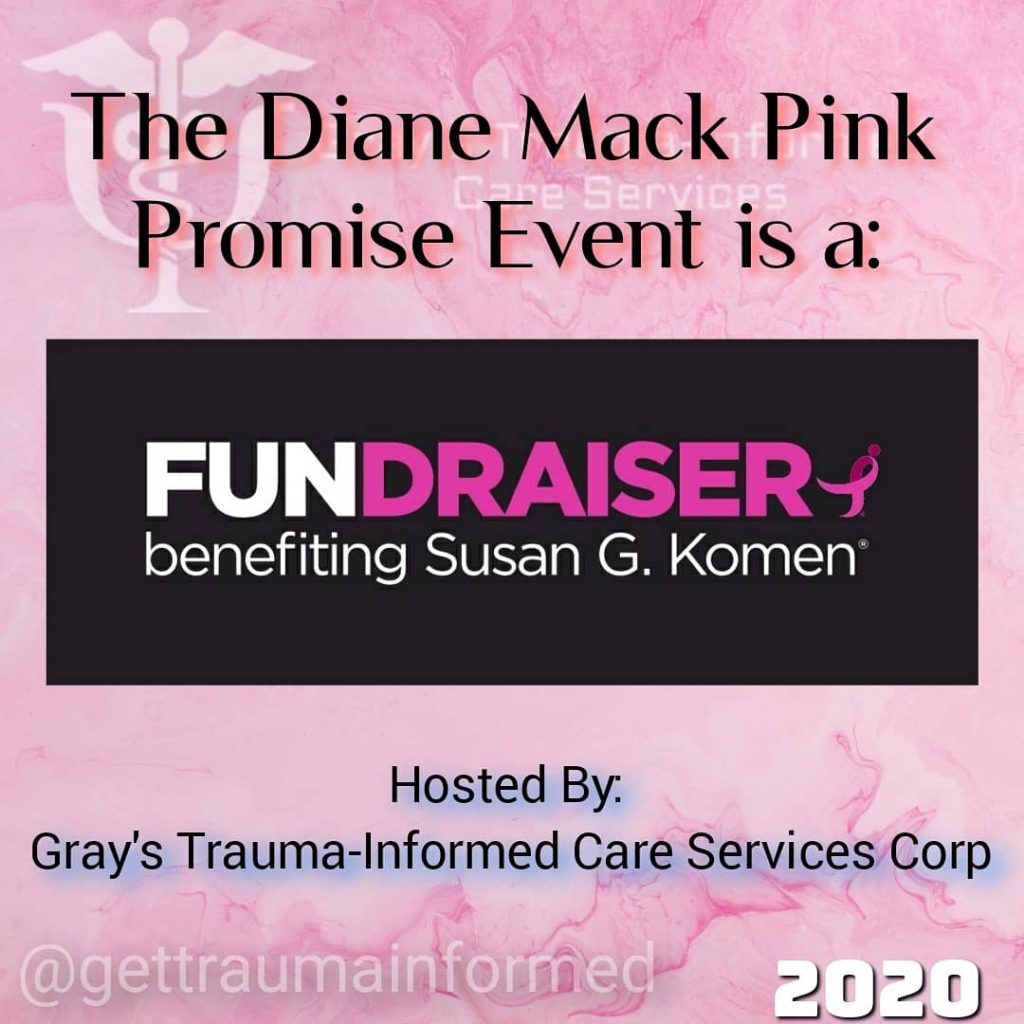 Inspired by the family's efforts, Gray's Trauma-Informed Care Services Corp decided to host the Diane Mack Pink Promise Event, a Susan G. Komen fundraiser. You too can join the cause by donating to the event. This event will become a staple of Gray's Trauma-Informed Care Services Corp's annual awareness events.
To Participate, please click the link below:
http://www.info-komen.org/goto/DianeMackPinkEvent
Let's all work to put an end to breast cancer once and for all.
Q&A With Dr. Gray Part One: On Victim Advocacy and Services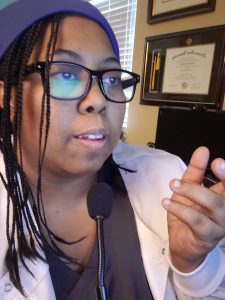 By Noble Baycar Editor Tabitha M. Chapman, CVA
Dr. Gray was asked to answer questions victim advocacy and service providers had about working within the industry. While she was asked several questions, the most interesting questions were chosen to be featured here in the Newsroom. We hope that you learn a lot from the information presented. If there are questions regarding victim advocacy, victim services, violence prevention and intervention and victim assistance, please email DrGray@gettraumainformed.com and you may see your question featured in a Newsroom Q&A with Dr. Gray session.
What is the number one issue an agency should be concerned with?
I think the number one issue that any agency should be concerned with is safety. No matter what an agency does to ensure the safety of the individuals the entity caters to, or for the individuals the organization is servicing, one can never be too safe. Safety is a huge broad topic with different layers of issues that providers must think about. For example, an organization might have their physical layout secure, but might be missing risk factors within the facility, such as non-secure phone lines, problematic technology that may expose a client's identity or any other type of risk factor that is being overlooked. Safety is not just about having an armed guard outside to protect those who are within a facility. Safety is also about minimizing risk before they happen or eliminating the risk all together. Safety and its many facets, is the number one issue an agency should be concerned with.
Do you feel as though there should be an overseeing body, like the BBS, within victim services?
The short answer is no. There shouldn't be an overseeing body within victim services due to the fact that victim services is population health management and public health driven. Different locales, areas and regions, or even different national organizations have varying issues of concern that they focus on. With limited funding, tightly budgeted allocation of monies, and not enough grants issued out, various victim services entities have to do what is best for them, to meet the needs of their population. Different areas also need different amounts of money to provide human, victim and social services, so that they continue to meet government requirements. With all of the variation of needs, an overseeing body, would simply make the landscape to compounded with issues. An overseeing body that is using a one size fits all model, is not going to effectively and efficiently, parse out service to victims and much needed resources to the providers, who rely on those resources. Victims will not get the best quality of service as they would if independent bodies place money and resources where they will work best for the population. This is not to say, that victim services does not require oversight. On the contrary, there are many credentialing, education, training, and certification agencies, dedicated to making sure that individuals are highly qualified to do their jobs. Having a governing licensing body, does not bring professionalism to the industry. Having an effective and efficient system that works for its population and providers does. So, I believe our focus should be on maintaining that quality and continuously improving upon the issues that we are able to.
What's the best way to deescalate the situation?
This is a tough question. It depends on the situation. I know that's a cliche answer. However, the best way to deescalate the situation is somewhat based on what's happening within that situation. In tumultuous situations, a victim services provider is going to have to utilize the skills that they learned in their trainings to deescalate a situation that may arise between themselves and a client, between clients, or provider to provider. In general, deescalating a situation requires thinking that situation through, looking at the best options that are presented, not acting, before thinking; being mindful of ones own thought processes and thinking about not only the needs of the client, but adhering to the standards, ethics, vision and mission of one's organization. If a situation is going to put you into a position where your actions are going to escalate the situation or go against the principles of your organization, you may want to make different choices and be cognizant of ethical standards, while making your decision. Again, one can't really say what the best way to deescalate a situation is, unless they know what the parameters of the situation is.
What can be done about backbiting in small organizations?
In a nutshell, the standards and practices of an organization, will produce the environment in which providers have to work. If there is backbiting within the organization, something about the agency is problematic. Different people have different personalities, and different personalities behave differently in given situations. This being said, an organization can implement policies, rules and regulations, higher standards and better channels of communication to help combat the problem. Backbiting usually results out of jealousy, anger and communication breakdowns. If you want to end backbiting it's best to go to your administrators and present issues that you may be having, allow your administrators to have a chance to work through those issues to help your organization maintain a more cohesive staff and a better understanding of what issues everyone is dealing with. Stress, in and of itself, can be a catalyst for communication breakdowns. Being forthcoming and hashing out issues, is beneficial to all parties involved.
Why isn't the field broader?
I would actually argue that the field is quite broad. Our industry spans through most human and social services arenas. This includes, but is not limited to law enforcement, legal, human, victim, social, and child services, healthcare and therapeutic services. I think that maybe the question is why is it that advocacy, as a profession, is not more known? People don't know victim advocacy and victim services can be a lifelong career. When people go into psychology, they are only taught about therapeutic mental health, and every industry around that, is treated as though it is nonexistent, when those other industries are the bulk of behavioral and mental health services. Twenty-six years ago, I myself, didn't even know victim advocacy was a career. I can't think of working within any other industry. Even when I first started, Victim Advocacy and Services had credentialing and certifying bodies that ensured that individuals had the right skills and education to perform their duties. Today our industry gets conflated with the therapeutic side of mental and behavioral health services. I believe that as organizations, such as, Gray's Trauma-Informed Care Services, works to improve upon industry standards, practices and empowering providers, more victim advocacy and services agencies will be able to sort these issues out for newcomers to the profession.
What can we do to make victim advocacy and victim services professions more known in the future?
Bringing awareness to the fact that, outside of therapeutic healing and therapeutic mental health services, there is an entire world of mental and behavioral health services, that individuals encounter before they ever step foot into a therapy services office. By encouraging academic institutions and the schools of psychology, anthropology, criminal justice, and other human and help services arenas, to bring awareness to the world outside of therapy, I believe this would be the change more victim services agencies would benefit from. The victim advocacy and services industry already is standardized, ethical and has codes of conduct. What is needed are more advocates, who want to do the work of professional advocacy, and not just as a springboard into therapeutic services.
How do I deal with someone when they are crying, and I am not a therapist?
The best way to do this is to realize that you have more tools in your toolbox than you are giving yourself credit for. Let me break this down. The job of a therapeutic service provider is to provide therapeutic services. The job of a victim advocate or victim assistance provider is to guide and help a victim through the legal, social and law enforcement process that is happening to them. As a Victim Services Provider (VSP), your job is to ease the victim's worries and fears. You are to help them to understand the process that they are in. If an individual is crying, that is normal. The process is difficult. They could be losing their home, their children, their job, or any number of events that happens on this journey to safety. As a provider, you can utilize the motivational interviewing strategies you learned in basic, intermediate, advanced or specialty advocacy training. You can empathize with the victim, explaining you know that it is a daunting process, but it is also short-term. You can take them step by step, on what will happen next. This will quell some fears and give the victim a bit of a break from the worries of the unknown. You can tell your client how the process is going to work and assure them, that if they have any questions, you are there to help. If you are worried about their mental health status, you can let the client know, that there are licensed professionals who can help them with their distress, anxiety, and mental health. There is nothing wrong with letting your client know they can receive care beyond the scope of what I could provide. This is what the therapeutic community is there for. Remind your client that you are there to get them safely through this process. You are a victim assistance provider; it is your duty to alleviate the clients worries. It is not so much that you're not a therapist, it is more that you have to use a different set of skills than a therapist would to effectively and efficiently help your client in a limited amount of time.
This concludes part one. Keep an eye out for Part Two of Q&A with Dr. Gray on Victim Advocacy and Services. Remember, if you have questions regarding trauma-informed victim advocacy, services, assistance and violence prevention, to email DrGray@gettraumainformed.com
TRAUMA-INFORMING INSTITUTIONS TO COMBAT OLD AND OUTDATED PRACTICES
By Dr. Amber D. Gray
July 2020
Recently, there has been much discussion over what trauma-informing facilities will do for individuals. From CEOs to operational staff, people are looking for ways to combat practices that are outdated and not beneficial to society. Since trauma informing providers began, research has shown an increase in the benefit that the new ideology, methods and techniques provide. Institutions all over the U.S. involved in human, behavioral or mental health services, have been clamoring to get their staff trauma informed (Kelly-Voicu, 2020). Being trauma informed is not going to go away any time soon. While the buzz usage of the phrase, "trauma informed," will phase out in time, the ideologies, methods and techniques will not. Here is why: According to Dr. Monique Tello, of Havard Health Publishing, "trauma informed care is practicing a culture of safety, empowerment and healing." Being able to reach a patient where they are at, to meet their needs, is not only beneficial for healthcare practitioners, but for all those who work with or interact with people. There will be those who toss the phrase around, ad nauseum. Yet, those who are in the business of helping people to heal, caring for patients, and improving health, will continue to use trauma informed practices to make care more effective and efficient.

Source(s):
Doctors call for trauma-informed healthcare in fight against systemic racism. (2020, June 15). Queens County Politics. https://www.queenscountypolitics.com/2020/06/15/doctors-call-for-trauma-informed-healthcare-in-fight-against-systemic-racism/
MPH, M. T., MD. (2018, October 16). Trauma-informed care: What it is, and why it's important. Harvard Health Blog. https://www.health.harvard.edu/blog/trauma-informed-care-what-it-is-and-why-its-important-2018101613562
THE BRANDON ACT PASSES, MAKING IT EASIER FOR SERVICE MEMBERS TO SEEK HELP OUTSIDE OF THEIR CHAIN OF COMMAND
By Dr. Amber D. Gray
June 2020
The passing of the Brandon Act will make it easier for service members to receive mental health assistance outside of their chain of command. In 2018, Navy Aircrew Aviation Electrician's Mate Striker Brandon Caserta, committed suicide (Kime, 2020). Investigations found that vulgarity, mistreatment and harsh leadership, contributed to the decision Caserta made to take his own life. The Brandon Act would give servicement a safe word to say that would immediately trigger an advancement to see a mental health professional outside of their chain of command (Kime, 2020). The bill, H.R. 7368 is similar to restricted reporting that is already carried out by the military. The bill was designed to ensure that service members can get the mental health help and assistance they need (Kime, 2020).
Military Times.com Patricia Kime, June 2020.
Homelessness for victims of domestic violence, who have children, on the rise amidst the coronavirus pandemic
By Dr. Amber D. Gray
June 2020
According to the California Health Report, organizations are starting to make a push towards ensuring that there are resources on hand to assist victims of domestic violence, who need housing (Boyd-Barrett, 2020). Due to isolation and quarantining efforts, many victims of domestic violence are finding that they are stuck at home more often with their abuser. With little to no options, victims of violence may find that they must leave their homes, to protect themselves, but more often their children. However, this is causing another problem.
Homelessness. While people are able to get themselves to a safe space, "away from the abuser," they are now finding, that they have no where to go. They are homeless. During the pandemic, there have been fewer places to call to receive resource services (Boyd-Barrett, 2020). The California Office of Emergency Services is seeking to do something about this dilemma, by making housing a priority. For 2020, California's Office of Emergency Services, was given a grant for $22 million dollars, to assist with the housing first effort. California Governor Gavin Newsom, also announced that more domestic violence support services will be provided for victims, during the Coronavirus pandemic.
As care providers, we are aware of the rises in child abuse, domestic violence, homelessness, racism and other traumatizing social problems. It is good that many of us are rising to the occasion to help to do something about the growing problems within the nation. Making sure that care providers are trauma informed will assist in helping to meet the demands that the pandemic has brought.
Call the National Domestic Violence Hotline, at 1-800-799-7233 to find out what your organization, or you can do to provide assistance during these times. It will take a collaborative effort to make things fall into place. As care professionals, we will approach these crisis, one day at a time, one step at a time, throughout our lives. Be safe!
Sources:
For survivors of violence and their kids, a push to prioritize housing. (2020, June 25). California Health Report. https://www.calhealthreport.org/2020/06/25/for-survivors-of-violence-and-their-kids-a-push-to-prioritize-housing/
SBIRT TRAINING… YES OR NO?
By Dr. Amber D. Gray
May 2020
Primary care providers, allied health professionals, nurses, and other medical providers are often looking for evidence-based, standardized training, that can assist them with patients with substance use issues. In 1999, along came SBIRT. By 2006, medical facilities were required to have their providers trained in SBIRT. Still, little is known about SBIRT outside of the healthcare arena. SBIRT stands for Screening, brief intervention and referral to treatment. It is a care pathway that assist providers in effectively treating patients with substance use issues. Medical professionals who train on the web-based version of the SBIRT training, rate their self-efficacy and knowledge much higher, than before they took the training. As a care provider, it would behoove most practitioners to take the SBIRT training to be more effective in treating their patient populations. Check out: https://sbirt.clinicalencounters.com/
to find out how you can become SBIRT certified.